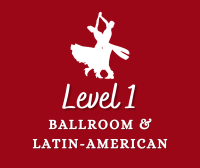 Join our fun and friendly dance classes taught by highly experienced and friendly instructors! Our goal is to help you to learn to dance in a way that is both fun and exciting whilst giving you the knowledge that you need to feel comfortable and confident on the floor!
Our Level 1 course is perfect for beginners who have never danced before, or for those looking to refresh their knowledge after returning to dance after a long period of time.
In this course you will learn how to dance the Waltz, Tango and Quickstep from the Ballroom genre and Cha Cha Cha, Jive and Rumba from the Latin-American genre. You will also learn a bonus dance, the Social Foxtrot!
We understand that some dances can be harder to learn than others. Our courses have been tailored to ensure that our students have sufficient time to master each dance before moving onto the next one. We never teach more than one dance in a single class so that you can leave the lesson with a strong understanding of each dance style.